We often have clients ask us some general questions about websites and the process of how we build custom website solutions, and why, so we thought we'd put together a little post on it.
You can either view our comprehensive PDF by clicking on the image below, or simply read on for all the details.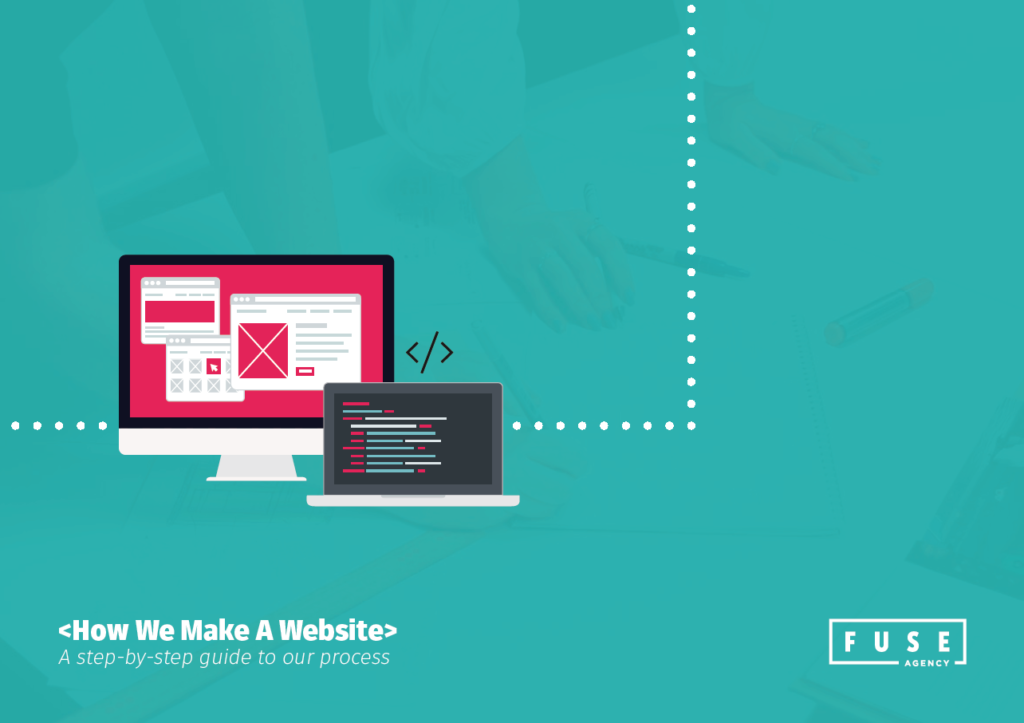 The majority of the websites we build use the WordPress platform.
The reasons for this?
WordPress is an open source content management system, which means anyone with WordPress knowledge will be able to work on your site in the future. Search engines LOVE WordPress sites because they are indexed faster which means your site will gain traction with search engines faster.
It's also a secure platform despite what you may hear. There are ample additional security options and space for premium grade security plugins too.
That's the great thing about WordPress websites—there's just so many plugins which perform a whole range of different features and give your site so much flexibility!
After liaising with our clients at the start of a project, we work out which of the following three options is the best solution when it comes to developing their website, based upon the functionality requirements and budget:
1. Limited Template Build:
Based on a few core templates and with limited functionality, these are ideal for businesses with smaller budgets and low level website requirements. Typically these jobs will be around 20 hours to design and build.
2. WordPress Template Build:
Based on more advanced templates, these deliver much more functionality and are often more appealing visually. As these are still templates, there are restrictions on the flexibility of what can be achieved but they can be customised further. If we need to keep the time and costs down, we can limit the amount of unique templates in the website design, or we can customise further to meet client requirements if budget allows.
3. Custom WordPress Template Build:
A custom design and build will allow total flexibility in design and functionality and a result entirely focused on the client's needs. Here we develop a site that is totally unique in look and functionality. For these completely custom and unique sites, we like to spend time perfectly crafting something that sets you apart from your competition. It's typically a collaborative process with our design, digital and marketing  teams to ensure we're going to address all of your website requirements as well as capture your target audience.
Once we work out with you what build you'd like, we generally follow this process:
Stage 1: Benchmarking & Planning
We check the online presence of your competitors and see what they're doing and how they're presenting themselves to your audience. We also look at sites that you like, that we like, and sites that we think fit the brief for your audience but might be a different product.
Next, we build a site map and look at any plugins that we might need for your website. From there, we start the process of getting content and our digital marketing team will put together an optional Digital Marketing package for you which covers extensive SEO, Keywords and Google Analytics.
Stage 2: Design
The design team will craft an example website design (or designs) to show you a few pages. If you have existing brand styles, we implement them into the design, otherwise, we work with you to create your online branding style.
Stage 3: Design – Part II
After you have decided on a design direction to progress with, we design the rest of the website taking into consideration any feedback you have given us in this process. We source stock imagery and make sure all the content is polished ready for development.
Stage 4: The Build
Our developer will build your website on a staging platform which we will link to you on completion, allowing you to explore the ins and outs of your new website and get familiar with where everything is. Should you need it, we are on hand to assist you with a walkthrough and address any questions you might have.
Stage 5: Content upload & test
Once you're happy with how everything looks and functions, we begin the process of uploading content for you. Sometimes our clients like to upload content themselves to ensure that they are well practiced in how to use their shiny new website.
We don't mind at all. We are always on hand to lend assistance though.
Once everything is uploaded, we'll do some more testing to ensure that there are no pesky bugs or broken links before we introduce your website to the rest of the world. Any final edits or adjustments will be made in this stage.
Stage 6: Launch*
Excellent! Your website is ready to go! If you have a current hosting plan and provider, we just need to make sure we have all the details and we can upload it directly to them for you. This can take some time, so we advise making sure that your customers are aware that there might be a slight time delay in the new website appearing. If you don't have a current hosting plan, not to worry! We have hosting packages available for you and as it's on our own server, the time it takes to upload is often much quicker. With the right details, we can also redirect your Domain name (or Domain Name Servers – DNS) to point to a new location. There's a lot that we can do in this stage so we suggest that you talk through all your options with your Fuse Agency account manager to make sure you've ticked every box.
*It's important to make sure that if you haven't already, you've purchased the domain name/url for your new website. There's nothing worse than having all the work done and then realising that you can't get the name you wanted.
Stage 7: Optional ongoing support
For the first few days after your website goes live we're here to help in the off chance that something goes awry. We also have month-to-month packages available to provide ongoing support for things like, backups, updates or even to increase your bandwidth (if your website is hosted with us). There's a few t's & c's involved with this that you can read below.
But there you have it. These are (generally) all the things that go in to making you a website. We can always incorporate special requests, like a particular function, or a feature that you've seen before (provided that we can also access it).
We're on hand to help you get the best website that you can to maximise your audience interaction, so why not give us a call today and we can take the next step?
Click here to get started with us
---
Terms and Conditions
Our aim at Fuse Agency is to build you an attractive, functional website that will help grow your business. To do that, we need the assistance of our clients.
Here's some things you need to be aware of:
Changes – Any design changes after stage three can incur additional time.
Content – If, unless otherwise discussed, it is the client's responsibility to source all content for the website including copy and images. We can help with that but that will be quoted separately.
SEO – Our websites are built for successful SEO but the SEO plug-in supplied with the website does need to be populated; we can complete that on request.
Launch process – when a site goes live on a new server, it can take anywhere from 2 to 48 hours for the new IP address of the website to propagate through the internet and during that time your website may be unreachable. There is no way of speeding this up so it's recommended that this occurs at a low traffic time. If that request is over a weekend, additional costs could be incurred.
Supply of graphic elements – Please supply all requested graphic elements and logos in a vector format prior to any work being commenced.
Hosting – we always prefer to use our hosting company as this makes things easier when managing your site. We do prefer not to host our clients email accounts. We suggest options like using Gmail or Office Exchange.
Plug-ins – All plug-in costs are estimates only and may change prior to launch.
SSL certificates are required for secure websites and will also be an additional charge. Plug-ins, SSL certificates, hosting and some other elements of the site will renew annually. An invoice will be raised 30 days prior to these dates.
Time – Web design is a linear process. If you aren't able to supply what we need to complete the job or you aren't able to confirm go ahead on one step, it may mean you are moved to the back of a queue and your website can't be completed when you want it to be completed.
---
If you have a question and want to get in touch, contact us or call us 07 3198 4890. If you are interested in keeping up to date with Fuse, subscribe to our enews.