Let's talk social media. We check in on the top social media changes in 2018 so far!
Back to Blogs
2018 is flying by and we have seen many updates to our social media platforms already this year! There is Facebook's rather unsuccessful entry into the ongoing stories war, the controversial Snapchat redesign and the new Instagram algorithm, just to name a few! One of the changes that's fairly consistent across all of the top platforms is the shift towards more personalised content resulting in a more engaged following. Our favourite socials are throwing out the classic 'reverse-chronological' style of display and tailoring our platforms to the content we are most interested in. Social media is definitely shifting away from traditional 'follower' behaviours and encouraging greater interactions among users. Here's an overview of the latest and greatest social media updates and what they mean not just for users but businesses as well.
Facebook
Facebook is an old-time favourite, whose popularity has stood the test of time. While the platform has faced some public controversy recently, they have been creating some changes to 'make friends' with their users. Traditionally, Facebook users post photos, videos and updates that they want to publish on a semi-permanent or even permanent basis. The updates to the Facebook Timeline and Facebook Memories has created a digital scrapbook of lasting content for users.
However, Facebook is shaking that image and joining the #storieswar! Now, at the top of your newsfeed, you'll see that familiar row of circled profile pictures representing the 24-hour story content. Facebook is establishing a visual newsfeed, where users can post their images with camera filters and effects. Sound familiar? This style of content is already popular on Instagram and Snapchat. Facebook stories are currently attracting 150 million active daily users, which sounds promising. Yet, compared to Instagram's 400 million daily story users, Facebook stories aren't winning the war at this stage.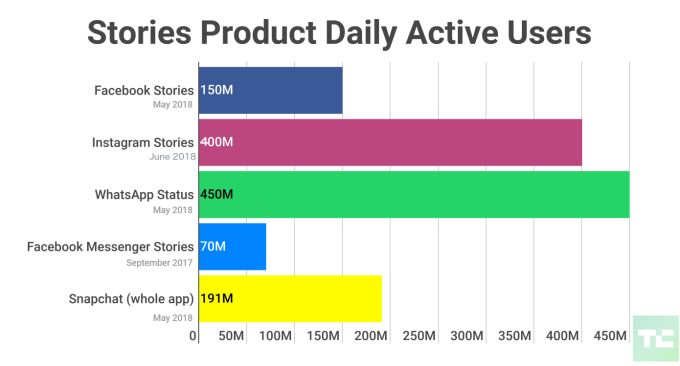 SOURCE: TechCrunch
Instagram
Instagram is definitely a favourite platform for both individual users and businesses. It has also been one of the busiest channels this year with a whole range of changes, all of which are aimed at trying to personalise user content and increase engagement.
The first change was the introduction of 'topic channels' on the Explore page. Instagram has always tailored user experience, but this year they have taken it a step further. Now, Explore is even more categorised based on the user's platform behaviour. The first channel is 'For You' and is based on frequently engaged users and pages. There are also sport, beauty, TV & movies, fitness, decor and many other channel options that allow you to customise the page. The change allows content creators to connect with more members of the target audience.
Recently, we have welcomed a new extension to the Instagram world, 'Instagram TV' or IGTV for those in the loop. IGTV is a separate channel located within the Instagram app and the streaming is built for use on the phone – full screen and vertical orientation. No TV would be complete without channels and IGTV is no exception, with one slight difference… the creators are the channels! All of your favourite Instagram accounts can become their own channel and share exclusive content with their followers. The video content will begin playing as soon as users enter into the channel, they do not need to search for channels or content. However, each IGTV is customised to individual users with a 'For You', 'Following', 'Popular' and 'Continue watching' function, giving users the freedom to explore a wide range of content at their fingertips! Definitely a great addition for the content creators of Instagram.
Instagram direct messaging has been given a big upgrade with the addition of video chat. The upgrade has a similar format to FaceTime and allows real-time connection between users. These video chats can be created between any users who have a direct messaging thread.
Instagram stories are definitely booming and the platform has added plenty of fun features to give them the edge in the #storieswar. We have seen the introduction of Instagram story polls, emoji sliders, sticker questions, gifs and now Instagram has added a music option. To give your Instagram story that extra edge, users can choose a song before capturing the video and it will become the soundtrack to your story! The artist is credited on the story and all songs are free for commercial use on the platform – talk about a killer soundtrack!
Finally, the biggest change that has been made, and the one businesses need to be aware of, is the introduction of a new algorithm. Instagram has thrown out the chronological order of your followings and instead, the algorithm organises your feed based on your engagement with a user. This change has stemmed from three key themes; interest, timeliness and relationships. Now, businesses need to be working even harder to engage with their users and secure their place at the top of their followers' Instagram feeds.
Snapchat
Snapchat has had a rather controversial year of changes so far. The big redesign of the platform caused user outrage, with 1.25 million users signing a petition for Snapchat to revert back to their old design. Despite this upset from fans, Snapchat stories are still attracting 191 million daily users! However, their stories have become rather stagnant with no major changes this year. Instead, Snapchat has begun focusing more on maps, gaming, content searching and providing professional content in their explore page. Similar to their competitors, Snapchat has also changed their algorithm and stories are now displayed in a reverse chronological order, allowing viewers to see the oldest stories first and moving forward into real time.
YouTube
One of the biggest issues for YouTube users is copyright infringements from other channels. YouTube has now introduced a copyright match tool for users with 100K and above. When a video is uploaded, the tool will search for re-uploads of your content on other channels. Any matches found will be listed in a 'matches' tab on the original producer's channel. These users then have the option to contact the creator or request that YouTube removes the content directly.
In other news, YouTube is joining the #storieswar!  The platform announced that users with a 10K or higher following will have a YouTube stories function on their channel.
Twitter
Twitter has had a busy year with some big changes to the channel. Firstly, they have introduced a 'sponsored moments' feature. The new addition is a place for Twitter users to see the major highlights of events and trending news stories around the world! It allows users to share videos, pictures and tweets in one area. By introducing this space, users can see all the popular features and trending items without having to directly follow lots of different users. It also introduces users to accounts they wouldn't normally see and allows them to engage with different topics.
Speaking of engagement, Twitter is the latest platform to change their algorithm. In an expected update, Twitter has said farewell to their reverse chronological ordering. Instead, they have based the algorithm on engagements. If accounts want to make the most of the new algorithm, Twitter-savvy users have claimed that reposting successful tweets, using strategic hashtags and responding to mentions is the best way to bump your tweets up the list.
Next, Twitter's image algorithm used to search for human faces as the focal point of the image. This strategy wasn't always successful and on occasion, the key aspects of images were overlooked. Twitter has changed the algorithm to identify the 'interesting areas' and position the post accordingly. The aim is to increase user engagement by better displaying the essence of user images.
Lastly, Twitter has gone to war with the Twitter bots! They have been working hard to remove many of the fake accounts on the channel. They are on the hunt for users who are posting identical content to multiple accounts and using multiple accounts to like, retweet and follow the same users. Twitter has also removed the automation function to different accounts. The aim is to remove the spam activity from the channel and increase engagement across those genuine users.
There you have it! The top social media changes for 2018 so far – I told you it has been a busy year! All our favourite socials are definitely making some big changes and any active user needs to be aware!
As a business, the challenge lies in not only keeping up with these changes across each platform but ensuring you are accommodating for them as part of your ongoing social media strategy. At Fuse Agency, our job is to stay ahead of the game to ensure we are delivering the best social media strategies each platform allows! Contact us today and let's see how we can elevate your business's social media strategy.
---
If you have a question and want to get in touch, contact us or call us 07 3198 4890. If you are interested in keeping up to date with Fuse, subscribe to our enews.