Occupation (Sparkefilms) Case Study: Generating big buzz for an Australian film
Back to Clients
How to make a teaser trailer go viral on social media
Occupation is a new film from SparkeFilms scheduled for release in Australian cinemas in the first quarter of 2018. It was written, directed and filmed in Australia by the clever team at Sparkefilms, led by writer / director, Luke Sparke, Carly and Carmel Imrie. The film follows a group of small town residents who have to band together after a devastating ground invasion. As they struggle to survive, they realise they must stay one step ahead of their attackers, and work together for a chance to strike back.
The team at Sparkefilms came to us looking for the best strategy to get the word out about their latest film, Occupation. The company, and film, already had a strong following and we knew this would be a great foundation to generate the nation-wide reach the teaser trailer needed ahead of the film's official release. The buzz a film generates ahead of its release can give the cinemas and investors involved a sense of its success so getting the most engagement and trailer views were incredibly important – you only have one shot to launch something!
DIGITAL
With the power of social media, we used organic and paid efforts to reach our goals and spread the trailer. Our primary platforms were Facebook, YouTube and Twitter, using Facebook Ads and Google Adwords additionally for our paid efforts. The trailer launched at 9am on a Thursday in January and within 24 hours, we had seen over 100,000 views and thousands of shares.
Specifically, we launched 4 ad campaigns that targeted both a broad audience and a narrow audience based off of analytical data of the current fan base. We included specific keywords and similar interests and movies that the fan base would already enjoy. As Facebook is a Pay to Play structure, having a Paid Social and Adwords campaign was incredibly important to assist in getting the reach we needed. We also managed to target ads so well that it gave us a low Cost per Click, giving our client more bang for their buck.
Within a week, Occupation had seen large increases across follower numbers, reach and views.
Followers: 12,144% ↑
Reach: 1881% ↑
Video Views: 72,665% ↑
Shared: Over 1300 times
Viewed: Over 350,000 times
Engagement: Over 5000 times (comments and reactions)
These numbers don't include the views from other outlets that have also been promoting the trailer off the back of our PR Campaign.  These outlets include Inside Film, Filmink, Cinema Australia, Access Reel, TrailerAddict.com, TeaserTrailer.com, Horror Fuel, Cult of Monster and Movie Access Trailers, who all racked up a great number of views.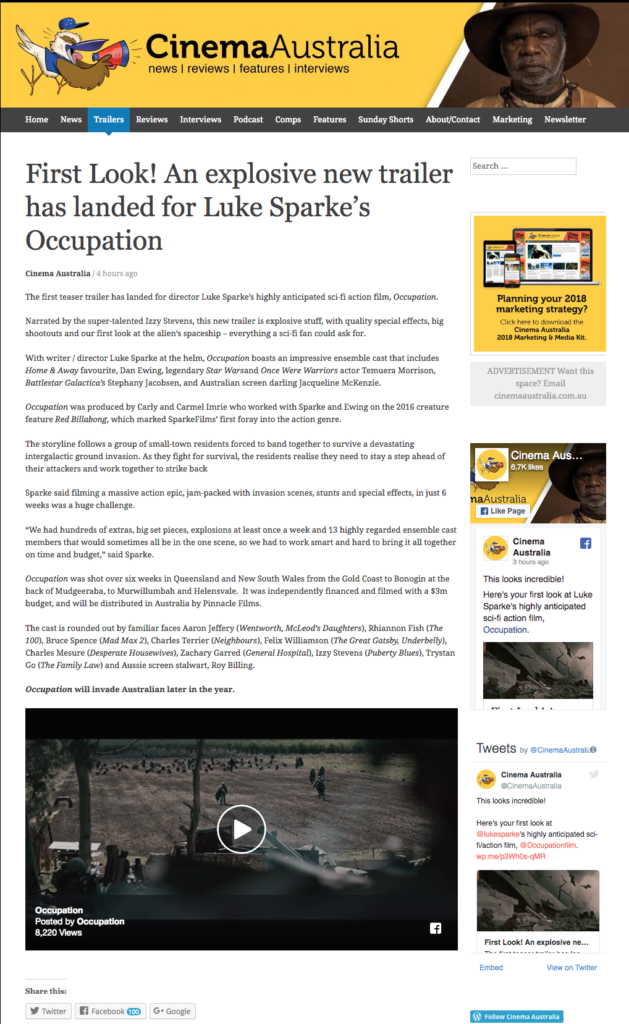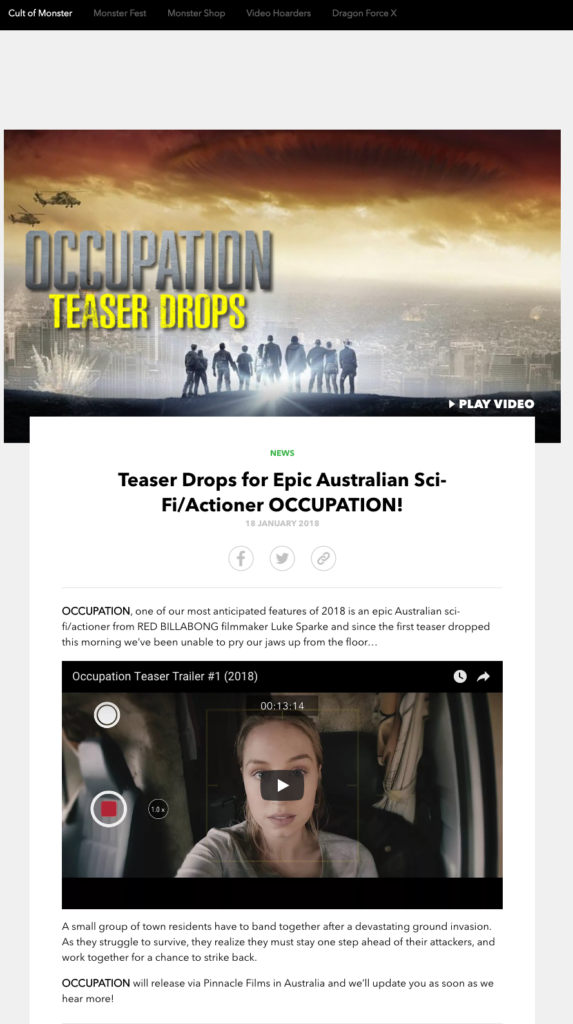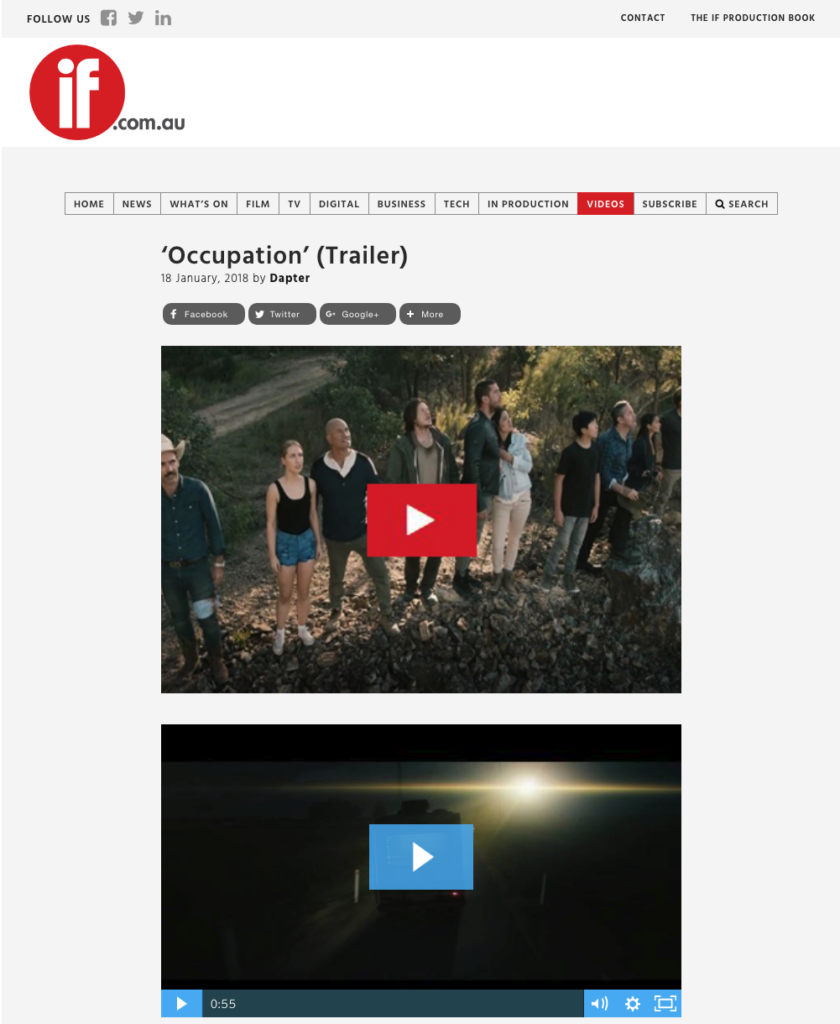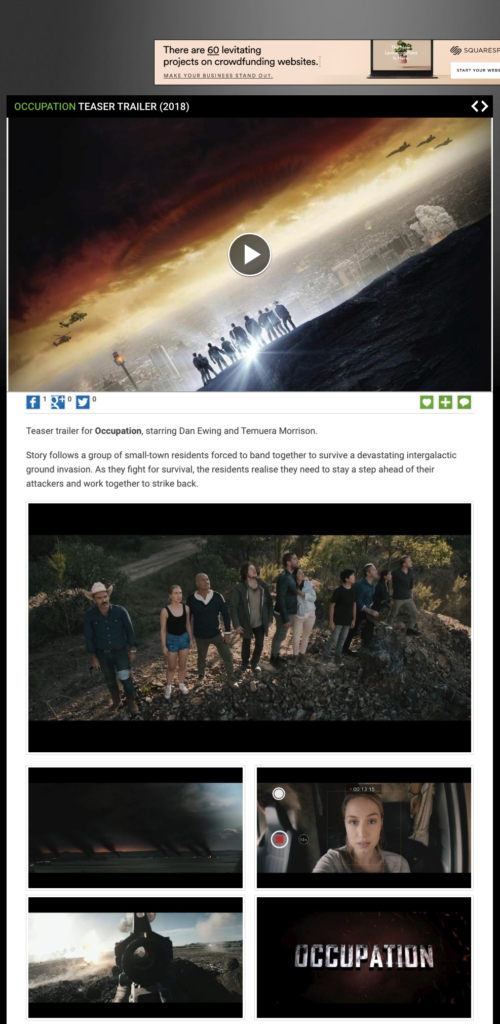 ---
If you have a question and want to get in touch, contact us or call us 07 3198 4890. If you are interested in keeping up to date with Fuse, subscribe to our enews.